As a LanguageCert and Trinity College registered exam centre, MDA offers a rich choice of courses to help students prepare for popular English exams.
Course Overview

Start Dates
Every Monday
Course Length
12 weeks
Class Size
Maximum 16
Minimum Age
18+
Class Hours
21 hours per week
Lesson Times
Monday - Friday
(09:30 - 14:30)
IELTS PREPARATION MATERIALS AND LEARNING

At MDA College, we use a range of different IELTS preparation materials, guides, practice tests and books to help you to improve your score.
We also use a range of General English and Academic English materials to help you improve your grammar, vocabulary and understanding of academic topics that you will need for the exam.
If you have any questions about our teaching methods or materials, please speak to our administrator or our Operations and Academic Director.
To improve English language ability against the CEFR.
To improve awareness and knowledge of the IELTS test- students become more familiar with the test format, test types and aims in order to improve their ability to achieve their target score.
To improve familiarity with typical IELTS topics- students become more familiar with typical topics in order to be more familiar with the type of content they are likely to see in the test.
To introduce students to British culture and customs, and encourage them to share their own cultures- teachers will teach students about life in the UK and encourage students to share their cultures too.
To introduce learning strategies and independent learning- students will use a variety of different learning strategies and learn about independent study techniques to help them to become better learners.
When you join a course at MDA College, we want to know as much as we can about you, your English learning history and your goals.
Before you begin a course, we will give you an Online Placement Test and a Speaking test. These will help us to understand the level you are before you start, what problems you have with English and help us to make some plans about how we can help you.
MDA Student Portal
All MDA College students will receive an online portal when they join one of our courses. The Student Portal is where you can find your attendance records, your weekly reports from your teacher and privately message your teacher.
You will get your login details from your teacher or from the administrator once you join the class. You can log into your Student Portal from here, or from the 'Sign in' at the top of this page.
The Common European Framework (CEFR)
We use The Common European Framework (CEFR) to find out your level of English and to help you to progress to the next level. This is also what the IELTS is using to test your English. You can see what each band at IELTS means for the CEFR level.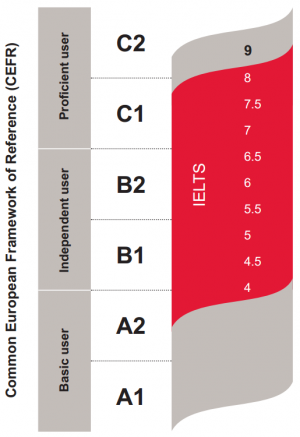 You will be able to see your classroom what you should be able to do at each level in your classroom. Your teacher will help you to use this to improve your level of English and your IELTS exam results.
MDA College is not an IELTS exam centre. You will need to pay for your exam separately to our course. You can book your exam online or we can book it for you.
Click here for the Leeds IELTS exam centre website.
If you want to take the IELTS exam for university, then you will need to take an IELTS UKVI exam. It is the same exam, but the conditions around the exam are different.
Click here to book an IELTS UKVI exam.